Information on your visit
Further sights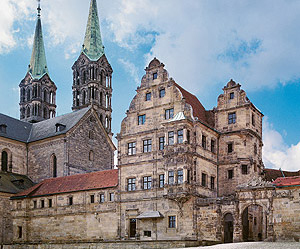 Further properties administered by our local office at Bamberg are the Old Court at Bamberg, Seehof Palace and Park at Memmelsdorf as well as Lauenstein Castle at Ludwigsstadt.
The Old Court, located opposite the New Residence, still contains fragments of masonry from the great hall and chapel of the 11th-century episcopal palace. Today the Old Court houses the Historical Museum of the city of Bamberg.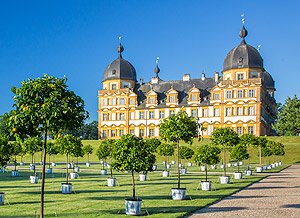 Seehof Palace was built from 1686 as a summer residence for the Bamberg Prince-Bishops from plans by Antonio Petrini (1631-1701). After secularization it fell into disrepair under private ownership, and by the end of the 20th century extensive renovation work was necessary.
Most of the palace is today used by the Bavarian State Conservation Office. The nine state rooms of the restored Prince-Bishops' Apartment, including the White Hall with its magnificent ceiling painting by Giuseppe Appiani (1706-1785), a highpoint of Rococo art in Franconia, are open to the public.
The splendour of the former Rococo garden is reflected in particular by the restored cascade with its waterworks and the sculptures by Ferdinand Tietz, which can be seen in the garden and in the Tietz Museum in the orangery.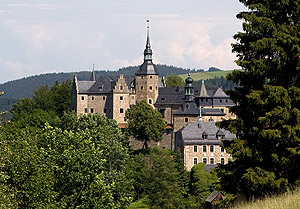 The oldest sections of this hilltop castle originate from the 12th century. In 1551–1554 the Lords of Thyna built a highly modern Renaissance Palace with striking corner towers which bears witness to their political importance in the Electorate of Saxony. In 1896 the neglected building was privately restored in the late Historicist style by Dr. Erhard Meßmer, who also refurnished the interior.
After it was sold to the state of Bavaria in 1962, the Bavarian Palace Administration renovated the castle and opened it as a museum showing Meßmer's collections. On display in addition to armour, weapons and traditional furniture are special exhibitions of historical locks and keys, lamps and musical instruments.