The digital Residence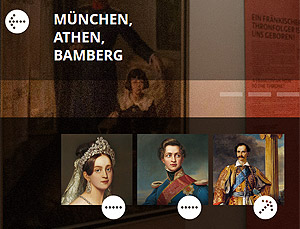 Are you unable to visit to the New Residence in the heart of the World Heritage site of Bamberg? Then why not try a virtual visit?
Here you can find online exhibitions or take a virtual walk through the state rooms.
The options are continuously being expanded – so that it's always worth paying another online visit.
Online exhibitions
The online exhibition 'After the prince-bishops. The New Residence in the 19th century' shows a different side of the New Residence of Bamberg – for example as the palace of King Otto of Greece and his wife Amalie and the Free State of Bavaria's seat of government.
The online exhibition 'Unfamiliar treasures. Furniture and works of art from the collection of Bamberg Residence' offers an insight into the rich holdings of furniture and works of art in Bamberg and invites visitors to take a look behind the scenes of the state apartments.
Virtual tour on the New Residence (as of 2012)
In this virtual tour you will experience the New Residence in Bamberg from a brand new perspective. Please note that the Prince-Bishop's Aapartment is shown as it was prior to restoration.
Please click on the picture below to start the virtual tour: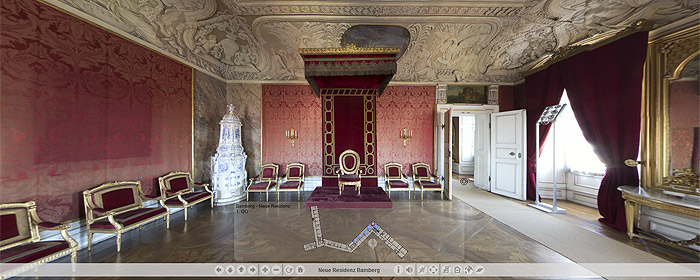 The panoramas or pictures to be loaded are rather large, and thus take a relatively long time to load. Please be patient – they are worth waiting for! Navigation through the virtual tour is more or less self-explanatory. However, to make full use of all the options, please look at the help page. The tour opens in a separate window and was prepared by Josef Spitzlberger, Oberschleißheim.